Summertime is here in the Upstate and school is OUT!
If you're struggling to find activities in the Greenville, SC area to keep your kiddos entertained and stimulated this Summer, look no further! We have created a list of some great Summer activities that will have your little ones asking for more (and completely worn out!).
To help, we have narrowed down the options by category:
---
For an awesome indoor activity that can help you beat the SC heat this summer, check out our unique escape rooms at Trapped in the Upstate. We have 6 different themes with multiple family friendly rooms to choose from! First time? No problem! We have multiple difficulty levels as well! Book your experience today!
Outdoor Fun
---
Located in Traveler's Rest, SC, Blueberry Hill allows you and your family to spend the day picking your own blueberries. They feature berries that haven't been sprayed with harmful chemicals. Visit their website for their hours and days open as they may vary.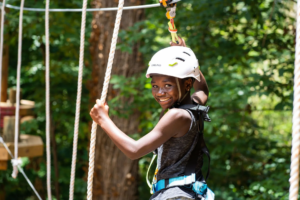 Located off Laurens Rd, Flying Rabbit Adventures is an outdoor ropes course that challenges climbers to navigate obstacles designed for all skill levels. They even have a course designed just for children! They are part of the Holland Park Development, so food and drinks are available on site as well.
The Greenville Zoo is a fun activity for kids (maybe on a not-so-hot day) that will teach them all about wildlife while allowing them to interact with a variety of different animals. Safari Adventure Packs can be picked up at admissions that will allow kids to enjoy different games and activities as they explore the zoo!
Greenville county offers three different waterpark options for the Summer months. Otter Creek is located in Greenville and features 3 big water slides and 1 mini kids slide. Discovery Island in Simpsonville has 2 big water slides, a lazy river, a 4 tier splash and play structure, and a FlowRider wave simulator. Seventh Inning Splash is in Piedmont, SC and features 2 water slides, a giant funnel slide, a traditional lap pool, and a splash pad. All parks have available concessions.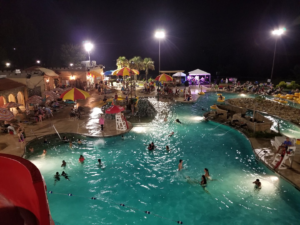 Shipwreck Cove is located in Duncan, SC less than 30 minutes from downtown Greenville. Family owned and operated, this fun location has affordable (and very tasty) food and beverages, a lazy river, 2 water slides, and private cabanas available for rent. Purchase season passes so your family can enjoy their facility all Summer long! They also have a host of special evening events offered throughout the Summer weekends.
Kids Planet opened last year and features cutting-edge playgrounds with wood structures and shelter areas. They have a small zipline for kids, and even a slide to ride down to the lower level parking lot. This playground has become very popular since opening, so be prepared for it to be busy over the Summer months!
Trampoline Parks
---
Big Air is located off Woodruff Rd and offers fun activities for active kids of all ages. This park features a climbing wall, foam pit, ninja course and a mechanical SHARK just for the Summer! They have a private party room and offer packages as well. Over 55 attractions for one price makes this a big bang for your buck.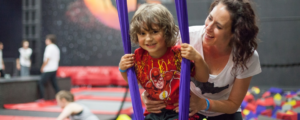 DEFY isn't your ordinary trampoline park! There is so much to explore here, from battle beams, to stunt falls, aerial silks and more, DEFY will wear out both kids AND adults! They also have a kid jump for ages 6 and under.
Sky Zone is located off Laurens Rd and offers some fun jump experiences such as battle beams, the warped wall, ninja course, and the sky ladder. One of the fun things Sky Zone does is their laser/black light show from 7-10pm on Friday and Saturday nights. For the littles, Saturday and Sunday mornings are reserved for children under the age of 5. They also offer party packages.
Urban Air offers many of the same types of attractions of the other trampoline parks, but they also offer 360 bumper cars that spin and flip, go-karts, and the Sky Rider–a zip-line like experience. In addition, they have virtual reality experience and a tumble track runway. They have space for birthday parties and team-building as well.
Museums
---
The Children's Museum has locations in Greenville and Spartanburg and is a blast for your younger children. They offer 3 floors of immersive, interactive exhibits, including pretend play areas, mini-golf, water play, and art studios. There is a café on site for snacks and a private room for parties if you're looking for place to host your next birthday!
The Greer Heritage Museum in downtown Greer, SC is a great place for kids and families to learn about the significant people, places, and businesses in the area, and to be transported to another time and place. Your kids will love learning about the history of our small town as they see what life was like in the earlier pioneer days. Don't miss out on the ghost tours over the fall months as well!
The Model Trains Station in Greer, SC is right outside of Greenville and offers a multi-scale display of some of the best model trains in the Southeast. But it's not just about looking at trains! They offer hands-on tables and themed railroad tracks that allow your family to "get their hands dirty" working on the railroad. In addition, they offer a private party room for birthdays and events.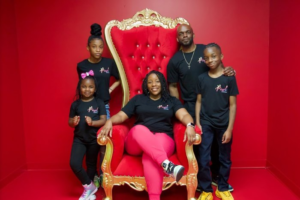 The Pixel Experience is a selfie-museum located where you can book a 1-hour experience taking unique selfies with their variety of backdrops. Children under 12 must be accompanied by an adult and sessions are by appointment only, so be sure to keep that in mind when planning your visit.
The Upcountry History Museum is located on Buncombe Rd in Greenville and has a variety of exhibits that are perfect for inquiring minds. This museum features permanent exhibits as well as changing exhibits (this year there is one on Dinosaurs!). They offer low-sensory nights, family fun days, and toddler time as well, so it's the perfect outing for children of all ages.
Escape Rooms
---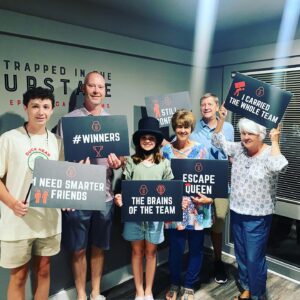 Trapped in the Upstate is located in Greer, SC off Wade Hampton Blvd, less than 30 minutes from downtown Greenville. We offer 6 unique and immersive escape room experiences for all ages. We cater to first time escapers and families with children.
Our facility has several games that are appropriate for kids, including The Master Illusionist's Parlor, Saving Santa, and Camp Survival (our 45 minute mini game). For older kids, we have some creepier, more challenging options, such as the Legend of Lizzie, Voodoo Shack, and Asylum.
Keep in mind that many escape room games are geared for more sophisticated minds, so younger children (12 and under) should be accompanied by an adult. This is a great activity to do as a family and get your kids off their devices for an hour!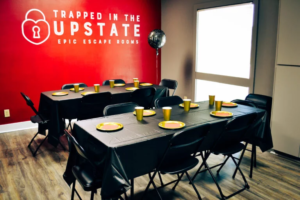 We offer a private party room as well that holds up to 18 guests. Party packages are available and would love to give your child or teen the birthday of a lifetime!
Located near downtown Greenville, Breakout is a national franchise escape room business that offers a variety of different themes such as Runaway Train, Mystery Mansion, and Submarine Survival. Their rooms hold up to 8 players and most of them are family friendly and not scary for younger players.
Escape Artist produces high-quality, original escape room games that are great for older teens and adults. They are also located near downtown Greenville off Stone Ave and they feature live actors in many of their games. A family friendly option is their super hero themed "Zero to Hero" which allows two teams of players to compete head to head for The Hero's Cup! Another option is their "Yuletide Magic" room which is a fun Christmas theme appropriate for families.
While mostly geared towards the arcade and bowling, Spare Time does have 4 different escape room experiences to choose from. Players can stop an Zombie Outbreak or explore Area 51, among other adventures. Spare Time is also offering birthday party packages at this time.
Other Indoor Activities
---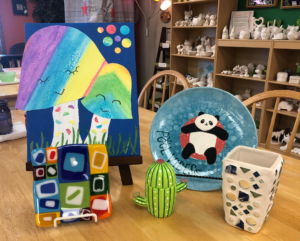 The Color Clay Café is located on East North Street and is a fun activity that families can do together. Choose a piece of clay art and demonstrate your skills with a variety of paints to make it your own. They have smaller figurines for kids and beautiful pieces of pottery and décor that adults can paint.
Located in downtown Greer, Plate 108 is an awesome location that offers public and private cooking classes for adults and children. They also have half-day Summer camp options. The chefs there are kind and patient and your family can enjoy creating some truly tasty dishes together. They have fun themes like Harry Potter, cupcake wars, and Disney!
The Roper Mountain Science Center brings science to life for kids and adults alike with a large display of exhibits to explore. There is so much for your family to see here, including a butterfly garden, a living history farm, and a dinosaur trail. This Summer they also have a new exhibit, Mystery of the Mayan Medallion which allows guests to learn as they solve puzzles and collect clues (like an escape room!).
For those with teens, The Speed Factory boasts the fastest go-karts in SC and has locations in both Greenville and Spartanburg. They have everything you need for a day of racing and adrenaline, and those 16 and over with a valid driver's license can participate (under 18 needs parent permission). Also available is a private party space with pool table and cornhole, along with catering options.
Spare Time is a fun option for kids of all ages, and there is truly something for everyone. This facility has a full restaurant and bar, a sizeable arcade, and bowling (we recommend booking reservations in advance, as they fill up on the weekends). Servers can even bring your food to your bowling alley! They also offer 4 escape room experiences as mentioned earlier and they offer party packages for all your birthday needs.
There is SO MUCH to explore in the Greenville, SC area this Summer with your little ones. We are grateful to be a part of the upstate community and we wish you all a safe and happy season!