OVERVIEW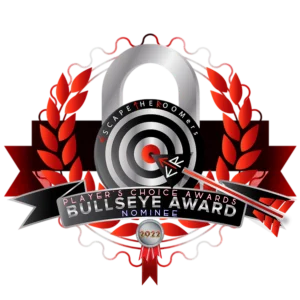 **THIS GAME IS LOCATED IN OUR GREER LOCATION**
Archeologist Robert Thomas was always ventured into a voodoo shack and was never seen again. His family believes that he has been cursed by a voodoo priestess and his soul is being held by supernatural forces. Your team was commissioned by the family to venture into the bayou and investigate the voodoo shack to find out what happened to Robert. Can you find Robert's magical relic and set his soul free…or will the voodoo priestess keep him hostage forever?
Voodoo Shack is great for players who thrive in chaos or players with several escape rooms under their belts.  The abstract puzzles get you thinking "out of the box." While this game is a little creepy, we describe it as "creepy funny". There are several lighthearted comedic relief moments throughout.
For more information about choosing an escape room game, please visit our "Which Room Should We Choose" page here.
​Note:  Any age may play with a parent, however, this game has spooky music and lighting and a few startling noises.  We recommend children be at least 10 years old, but please use your own discretion.  There is no gore or live actors in this game.