Murder Mystery Events Like No Other!
SERVING THE GREENVILLE, SC AREA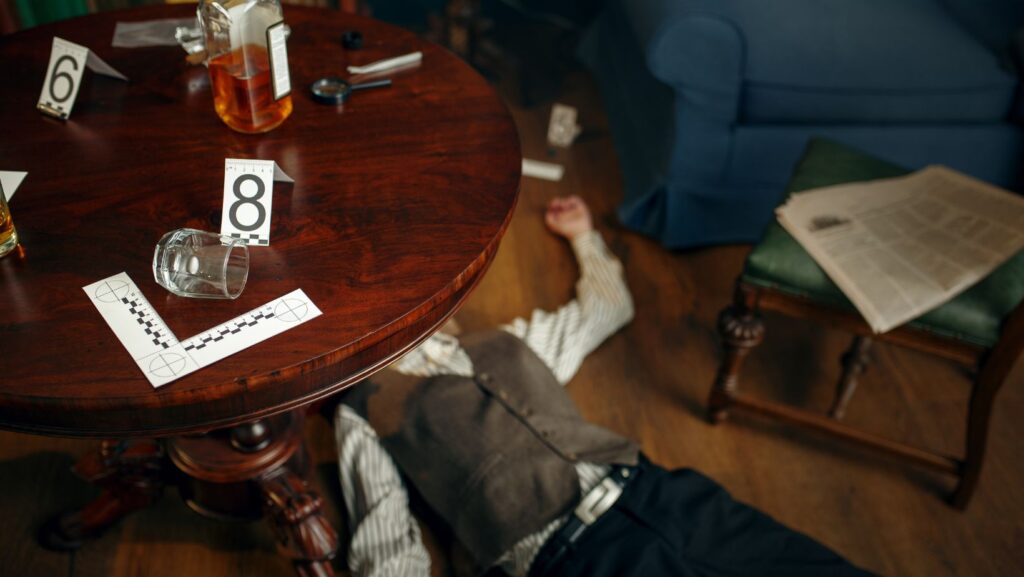 We host unique mystery dinner events monthly. Our events are more than just murder mysteries, they combine the puzzles and immersion of escape rooms with the suspense and excitement of a murder mystery! We can also customize an event for your next party or event.
FAQ
Answers to common questions below...
What makes these events different from other murder mystery dinners?
Our events are  an immersive experience that seamlessly melds the narrative-driven intrigue of a murder mystery with the hands-on puzzle-solving thrill of an escape room. Attendees are invited to delve deep into a world where every guest might be a suspect and every object could be a clue. As the storyline unfolds, participants must collaborate to uncover hidden motives, decode cryptic messages, and navigate a series of challenges to unveil the truth behind the mystery. 
How long do they last?
Our own events last approximately 2.5 hours. That includes doors open to final bows.
Is there an age limit?
It depends on the event. Some of the more adult subjects are 18+ but we do have events that are kid-friendly. Check the event page for more info on the specific event you are interested in.
Do I have to be in character? Can I be?
No, and yes. You do not have to "act" as a character to be a part of our events. We do offer an upgrade option to be assigned a specific character in the event. You will receive information prior to the event about your character and how they relate to the event.
The minimum age to play alone is 16.  Anyone under the age of 16 must be accompanied by a paying adult.  Anyone ages 5+ will require a ticket and all tickets are the same price based on the group size.
Will there be alcohol?
The majority of our events will include a cash bar. Check the event page for more information. You must be 21+ for alcohol purhases.
Can you do custom events?
Yes! If you would like a custom experience for your event, please contact us. 
I need to cancel. Do you offer refunds?
Due to the limited capacity of our experiences, we do NOT offer refunds for any reason.  We do understand that things come up and you may not be able to attend your appointment at your scheduled date and time.  If this should happen, give us a call at least 48 hours in advance and we will be happy to assist you in rescheduling your experience.
CONTACT
We would love to hear from you! If you have questions, please contact us. We will reply within 48 hours.