If you are looking for an epic birthday party in the Greenville, SC area, you've come to the right place! We know birthday parties can be stressful, so we have collected a number of awesome event venues with different options and packages to choose from, so your next party will be one to remember. Whether you're looking for an outdoor Summer party or an indoor event, we've searched far and low to give you all the best options.
To help, we have narrowed down the options by category:
---
For a unique and exciting party for all age groups, check out our unique escape rooms at Trapped in the Upstate. We have 6 different themes and private party packages that also include food and drinks so you only have to show up! First time? No problem! We have multiple difficulty levels as well! Book your experience today!
Outdoor Parties
---
The Greenville Zoo provides fun, engaging, and unique party packages for up to 20 people. Party packages include admission to the zoo, animal themed cupcakes from a local bakery, and paper products. Also included are giant backyard games like Jenga, corn-hole, and a photo booth complete with signs and birthday banners. The coolest part is an animal encounter with one animal during the party time!
Greenville county offers three different waterpark options for your Summer birthday parties. Otter Creek is located in Greenville and features 3 big water slides and 1 mini kids slide. Discovery Island in Simpsonville has 2 big water slides, a lazy river, a 4 tier splash and play structure, and a FlowRider wave simulator. Seventh Inning Splash is in Piedmont, SC and features 2 water slides, a giant funnel slide, a traditional lap pool, and a splash pad. Party packages are offered for a minimum of 10 people and include pizza, drinks, cake, and a party hut rental.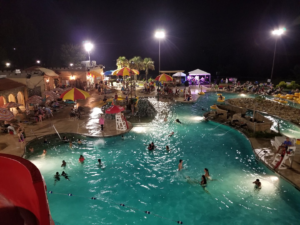 Shipwreck Cove is located in Duncan, SC less than 30 minutes from downtown Greenville. Family owned and operated, this fun location has affordable (and very tasty) food and beverages, a lazy river, 2 water slides, and private cabanas available for rent. The private cabanas come with patio furniture, a safe for belongings, and curtains that close for privacy. They also offer huts and shelters to host parties and have packages to include (yummy) food an beverages.
Kids Planet opened last year and features cutting-edge playgrounds with wood structures and shelter areas. They have a small zipline for kids, and even a slide to ride down to the lower level parking lot. This playground has become very popular since opening, so be prepared for it to be busy over the Summer months! Kids Planet offers shelter rentals in 2-hour increments to host your party or event. The cost for Greer residents is $20-30 and the cost for non-residents is $30-40, making this a cost-effective option.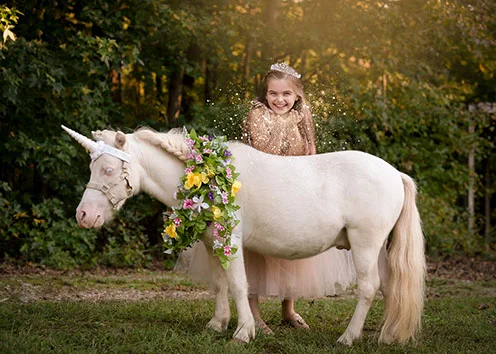 Located in Fountain Inn, SC, the unicorn farm offers party packages that include unlimited unicorn riding, bounce houses, animal feed, and a party tent. They also offer food and drinks as part of their packages with add-ons like ice cream treats and goodie bags. This is a truly unique birthday offering in the upstate area!
Trampoline Parks
---
Big Air is located off Woodruff Rd and features a climbing wall, foam pit, ninja course and a mechanical SHARK just for the Summer! They have a private party room and multiple packages with different amounts of jump time. Food and drink options are available and customizable to include add-ons, and they offer setup and clean-up so you just have to show up! Over 55 attractions for one price makes this a big bang for your buck.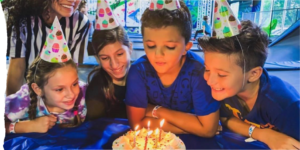 DEFY isn't your ordinary trampoline park! There is so much to explore here, from battle beams, to stunt falls, aerial silks and more, DEFY will wear out both kids AND adults! They also have a kid jump for ages 6 and under. This facility also hasdifferent levels of packages that include pizza, drinks, and decorations, and different amounts of jump time. Celebrate in a private party room after your jump.
Sky Zone is located off Laurens Rd and offers some fun jump experiences such as battle beams, the warped wall, ninja course, and the sky ladder. This park has several party packages, including a black light party and a package for younger children aged 5 and under. They also offer food and drinks and party supplies, as well as a t-shirt for the birthday child. Their packages hold up to 10 players with add-on players available.
Urban Air offers many of the same types of attractions of the other trampoline parks, but they also offer 360 bumper cars that spin and flip, go-karts, and the Sky Rider–a zip-line like experience. In addition, they have virtual reality experience and a tumble track runway. Birthday parties here offer a lot to choose from, and they have a classic as well as a glow theme. Customized birthdays can include a few or as many of their multiple attractions and their suites include HDTVs and food.
Escape Rooms
---
Trapped in the Upstate is located in Greer, SC off Wade Hampton Blvd, less than 30 minutes from downtown Greenville. We offer 6 unique and immersive escape room experiences for all ages. We cater to first time escapers and families with children.
Our facility has several games that are appropriate for kids, including The Master Illusionist's Parlor, Saving Santa, and Camp Survival (our 45 minute mini game). For older kids, we have some creepier, more challenging options, such as the Legend of Lizzie, Voodoo Shack, and Asylum.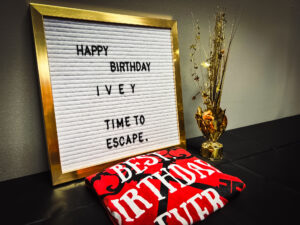 Keep in mind that many escape room games are geared for more sophisticated minds, so younger children (under 12) should be accompanied by an adult or older teen if they have never played escape rooms. For the first timers, never fear, at Trapped we always offer unlimited clues and hints, so we won't let you get too stuck!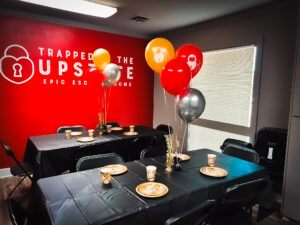 We offer a private party room as well that holds up to 18 guests. Party packages are available and would love to give your child or teen the birthday of a lifetime! Our Basic Escape Package includes 1 hour of game play and 1 hour of party room with basic decorations so you can bring your own food and drinks, while our Deluxe Escape Package also include pizza, drinks, and escape room party favors for all children!
Located near downtown Greenville, Breakout is a national franchise escape room business that offers a variety of different themes such as Runaway Train, Mystery Mansion, and Submarine Survival. Their rooms hold up to 8 players and most of them are family friendly and not scary for younger players. They do not have a private party room option but all escape rooms are private.
Escape Artist produces high-quality, original escape room games that are great for older teens and adults. They are also located near downtown Greenville off Stone Ave and they feature live actors in many of their games. A family friendly birthday option for larger groups is their super hero themed "Zero to Hero" which allows two teams of players to compete head to head for The Hero's Cup! They do not have a private party room option, but all escape rooms are private.
While mostly geared towards the arcade and bowling, Spare Time does have 4 different escape room experiences to choose from and they recently started offering birthday party packages. Birthday parties can accommodate up to 10 players and also include food and drink options. Players can stop an Zombie Outbreak or explore Area 51, among other adventures.
Other Indoor Activities
---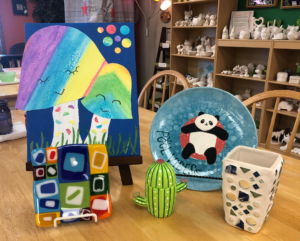 The Color Clay Café is located on East North Street and is a fun party idea for the artsy kids. Their packages offer 2 hours in a private room and they have a variety of options for painting. Guests can paint a tile, small figurines like animals, cars, or mermaids, ice cream bowls, or canvases. While they do not provide food packages, guests are free to bring in food of their own. The best part is that the kids will have their very own party favors to take home (keep in mind it takes about 2 weeks to complete the pieces so you'll have to come back to pick them up).
For those with teens, The Speed Factory boasts the fastest go-karts in SC and has locations in both Greenville and Spartanburg. They have everything you need for a day of racing and adrenaline, and those 16 and over with a valid driver's license can participate (under 18 needs parent permission). This option is great for older teens, as they have a private party space with pool table and cornhole, along with catering options.
Spare Time is a fun option for kids of all ages, and there is truly something for everyone. This facility has a full restaurant and bar, a sizeable arcade, and bowling (we recommend booking reservations in advance, as they fill up on the weekends). Servers can even bring your food to your bowling alley! They also offer 4 escape room experiences as mentioned earlier and they offer party packages for all your birthday needs.
Pump It Up is a great party location for elementary aged child that includes a private party room offering food and beverages as well. They offer gigantic inflatables for the kids to enjoy as well as rock climbing wall. Their price point at $10 per child makes this option cost-friendly for larger parties and groups.
For the tech savvy kids, or those interest in the video games, Code Ninjas in Greenville offers birthday party packages that allow children to code and play their own video games. They offer party packages complete with decorations, favors, and food/refreshments as well. Packages can be customized and themed to your desire as well! They advertise their services for ages 5-14.
The Little Gym offers different levels of party packages for ages 1-12 and is great for those who love to move and shake and explore their physical space. Their instructors will assure that your little ones are engaged, and on the move, and the offer customized options as well.
If your child is wanting a pool party in the colder months (or Summer months), the Kroc Center has an indoor pool and offers a variety of packages for birthday parties. Their packages include 60 minutes of time in bounce houses or in the pool, along with a private party room that accommodates up to 25 people. They have different levels of packages to suit all budgets.
Rolling Video Games offers a TON of options for birthday parties and they will come to you! Their mobile gaming theater holds 15-20 kids with stadium seating for video games (complete with a host that will assure everyone has a safe time). They also have games like backyard laser tag and other interactive games. In addition, they offer a big inflatable movie screen for backyard or poolside movies. Turn your own space into a party your child won't soon forget!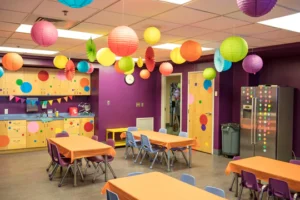 The Children's Museum has locations in Greenville and Spartanburg and offers 3 floors of immersive, interactive exhibits, including pretend play areas, mini-golf, water play, and art studios. Their party packages include ALL DAY play for party guests (play before and after the party), cupcakes for all children, and a private party room. Younger children are sure to have an amazing time at this venue.
The Model Trains Station in Greer, SC is right outside of Greenville and offers a multi-scale display of some of the best model trains in the Southeast. But it's not just about looking at trains! They offer hands-on tables and themed railroad tracks. Model Trains offers a private party room for birthdays and events. You get access to their children's play area featuring wooden toy trains, basketball arcade, beanbag toss, and more.
There is SO MUCH to explore in the Greenville, SC area this Summer with your little ones. We are grateful to be a part of the upstate community and we wish you all a safe and happy season!