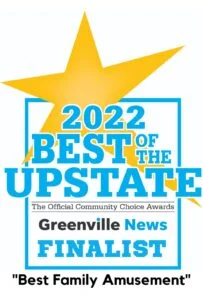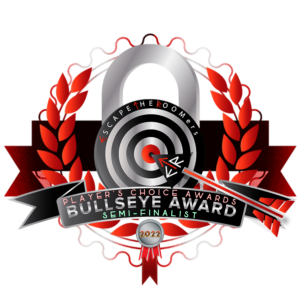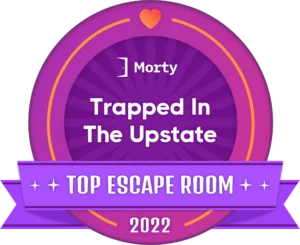 Book one of our games online
Browse our room themes and select the one you like. Reservations can be made online to assure the room is all yours!
Start your adventure
Your team will have just 60 minutes to complete a series of puzzles and tasks in order to accomplish the final mission!
Celebrate your success
Celebrate together as you learn more about the story, and each other. We guarantee you'll have an amazing time or we'll give you your money back!
WHO CAN PLAY?
We have room options for all ages! Anyone can play and enjoy our rooms.
Friends & Families
Escape rooms make a great date night or family fun night. We also offer packages for birthday parties.
Tourists
Book an escape room for your next visit to the upstate. Serving the Greenville, SC area.
Gamers
Anyone who enjoys quests, riddles, puzzles, and codes will love the challenge our rooms provide.
Corporate
Escape rooms make great team building activities for corporations. Call today to book your organization's room.
FAQ
Answers to common questions below...
What is an escape room?
An escape room is an immersive, live game you can play with others that requires you to solve puzzles in order to complete a given objective.  Different rooms have different themes and different objectives, but none of our rooms require any "outside" or prior knowledge.
Will I be locked inside of a room?
You will not be locked in a room, and you are free to leave and return to the game at any time.  Escape rooms are games, and while there will be a final puzzle that will allow you to "escape" or "win" the game, there is no actual need to escape.
Are escape rooms scary?
The description of each game is listed on the website.  Some of our games are spooky or based on creepy stories, but they are not like haunted houses in the sense of live actors and jump scares.  Some of our rooms are made to be more startling than others but our escape rooms rely more on good puzzles and storytelling than scaring our customers.  We'll leave that to our friends in the haunt industry!
How old do you have to be to play?
Our escape games are open to any ages, however, children under the age of 10 may not understand the puzzles or be able to contribute to the game (although they love opening locks and finding hidden objects!).  Some of our rooms are a little spookier than others, so if you have a child that is particularly sensitive, they may not enjoy it.
The minimum age to play alone is 13.  Anyone under the age of 13 must be accompanied by an adult.  Anyone ages 5+ will require a ticket and all tickets are the same price based on the group size.
Which games are family-friendly?
The Master Illusionist's Parlor and Saving Santa are 100% family friendly games.  We do recommend at least one teenager or adult be present with younger children, as these are not "kids" games and some of the logic puzzles may be tough for those under the age of 12.  Our other games have some more mature themes (PG/PG13) and parents can use their own discretion.
Which room would be best for my team?
We have created a room guide here.  If you still have questions, feel free to give us a call and we would be happy to make a room suggestion for your group!
How many players are needed?
Different rooms have different maximum players, but we allow parties as small as 2 to play.  Typically speaking, more players means more minds working together to solve puzzles, which means more viewpoints or ideas.  This can make the rooms a bit easier to win.  But any of our rooms can be played (and completed) by just you and your date.
Will my group be placed with strangers?
All of our games are 100% PRIVATE.  In addition to health and safety concerns, we feel very strongly about private games that allow your group to experience the full breadth of the game.  When there are multiple parties in the same room, it means that another party may solve a puzzle that you didn't get to play.  We want your team to play ALL of our puzzles and riddles and enjoy the full experience.
If you are more of a social butterfly, don't worry, we will have some special events featuring public games in the future! 😉
How long are your games?
All of our games are 60 minutes long.
Is parking available?
We have ample private parking available on property.
Do I have to make an appointment online?
Yes.  All of our reservations must be pre-paid and pre-booked online through our website.  Because our rooms provide 100% private, theatrical quality experiences, we must receive payment to secure your reservation and remove it for others to play.
What if my team wants to pay separately?
The minimum number of players to make a booking is 2.  We recommend booking for two players to secure the room, and other players may pay separately for their spots when they arrive.  Keep in mind that this will forfeit the larger group discount and room capacities must still be respected.
Do you take walk-ins?
We do accept walk-ins if we have open availability, however, there are only a limited number of spaces available at a time.  If you need a last minute booking, feel free to give us a call and we can let you know what is available.  Friday and Saturday nights are the busiest, so it's best to call before walking in.
I need to cancel. Do you offer refunds?
Due to the limited capacity of our escape room experiences, we do NOT offer refunds for any reason.  We do understand that things come up and you may not be able to attend your appointment at your scheduled date and time.  If this should happen, give us a call at least 48 hours in advance and we will be happy to assist you in rescheduling your experience.
See what our customers are saying:
First and foremost, I want to say how great the owners of this place are. They are genuine Escape Room enthusiasts who have done rooms all over the US. I mention this because it makes a HUGE difference in their games. If you've never done an escape room before, you'll enjoy this place. If you've done a few other generic rooms, you'll be impressed by how good these rooms are. If you're an enthusiast, trust me, you'll be glad you decided to do a game here! The rooms are immersive, the game play is unique, and they've poured plenty of effort into the sets, the "magic" of the rooms, and the entertainment value. My fave rooms are Voodoo and Master Illusionist, but they are all good. Saving Santa is tons of fun, and Lizzie is adequately creepy. Go. You'll love it.

Lillie Westmoreland


June 6, 2022

Such a fun time!! My best friend and I went last minute late last night and played the Legend of Lizzie room and we got out with 19 minutes left (a little flex as it was our second escape room ever). It was such a cool one!! We had so much fun that we booked another room for this morning- we did the Voodoo Shack room and escaped with about 3 minutes left. We definitely struggled a bit more (which is to be expected because it's not supposed to be easy!!) but still had such a great time regardless! Mark (the owner and our game master) was very wonderful to interact with and easy to book with! We plan on going back soon to do the other 2 rooms and the add-on mini room. Honestly I'll be sad when we run out of rooms to do here- but I'm sure we could go back and redo rooms to beat times and just for fun!

Kathryn Shoemaker


February 12, 2022

SO MUCH FUN! This was our first Escape Room experience and all I can say is WOW! so well done, fun, intriguing and exciting! We did the Lizzy Borden room and were blown away by how well it's done! Mind bending puzzles, sound and lighting to make you just uneasy enough. Really a great time and a must do experience! We failed. We'll be back!

Do this today!!!!!

Mikhail Okun


May 12, 2022

My family and I went to Trapped in The Upstate and did their Lizzie Borden room. We had such a fun time! Both staff members were super friendly and the whole place had such a good vibe. The room was very interactive and challenging. We escaped with 11 mins left and all said this is the best escape room we have ever been to! I will definitely be back and will recommend them to anyone.

Mackenzie E


May 29, 2022

My friend and I had an awesome experience at Trapped in the Upstate! It was easy to book online, and the instructions and directions in the confirmation were very clear, which I appreciated. Mark was friendly and helpful from beginning to end. We did the Legend of Lizzie room, which was challenging for two people but definitely doable (with a couple of hints), and the game was so well thought-out and really professional. It was so much fun! I'm fairly new to escape rooms, but I definitely will be back to Trapped in the Upstate!

Courtney Cleavenger


April 12, 2022

Went here for my 21st birthday with a group of friends and had a wonderful time! We originally had planned to do the Illusionist since we had 7 people, but our group went down to 6 so we asked to switch to Legend of Lizzie and our Game Master (I never got her name, darn) was super flexible and let us change last minute! So glad we did, because the room was spooky, the clues were great, and we had an awesome hour of screams and laughter. Highly recommend this place for anyone looking for a fun time with friends or family 🙂 .

Cassandra Shaddock


May 12, 2022
CONTACT
Come visit us on Memorial Drive Ext behind McDonald's on Wade Hampton Blvd. We are minutes from downtown Greer dining and shopping!