In late 2020, Mark and Bonnie Lesney were looking at a new business venture in a post-COVID world.  Mark had recently moved to SC from Austin, TX, and Bonnie was wrapping up more than a decade-long career in substance abuse treatment programs.  They were looking for a new way to utilize Mark's tech and business background, and Bonnie's background in psychology.
At the same time, they were becoming enthusiasts for a recent(ish) trend that was gaining ground.  The couple enjoyed these immersive adventure games that challenged their mind (and at times, their relationship!).
One day, after a particularly terrible experience at one of these "escape rooms", they began to talk about what they would want to create in their own games.  That was when Mark suggested that the new business they were looking for, may be right in front of their faces.  Thinking he must be joking, Bonnie brushed it off.  But a few days later, after thinking about it more, she said those three words everything budding entrepreneur wants to hear from his wife…"Let's do it."
The next 7 months were a whirlwind, as the Lesneys began to source commercial property, begin construction, and start to decide on game themes.  They also played more than 100 escape rooms, talking with owners and learning more about the industry. After meeting a couple from a Key Largo, FL company Kingdom Escape Games, the couple purchased the game "Robert's Relic", which they later renamed "Voodoo Shack".  They also purchased a game from a developer called "Master Illusionist's Parlor", which featured a more beginner friendly Houdini-like theme.
On July 1, 2021, Trapped in the Upstate officially opened their doors.  In August, they opened "The Legend of Lizzie" game, which was Bonnie's first full game design.  Once learning that they could create successful games with Bonnie's puzzle design and Mark's tech and set work, they were off.  "Saving Santa" opened in November 2021, and "Camp Survival", a challenging 30 minute mini-game (that later became 45 minutes) opened in December 2021.  The couple released their newest game, "Asylum", in June 2022. In spring of 2023, "Camp Survival" was converted into a full 60 minute game, "The Cabin".
In the summer of 2023, they got the opportunity to open a second location in Spartanburg, SC, just under 30 minutes away from the original location in Greer. They opened their 7th escape room, "Prison Break" and have plans for 4 more brand new games at the Spartanburg location. The second game will be "Cold Case" (a 90s themed mystery) which will release later in 2023.
Since opening Trapped in the Upstate, nothing has been the same.  A new business venture is always a risk, and is often scary.  But the rewards have been great.  Mark and Bonnie are so blessed to have the support of Greer and Spartanburg and the escape room community.  They love their players and supporters and can't wait to continue to provide a fun and exciting experience for friends and family in the upstate SC area.
THANK YOU for supporting our small business, and we can't wait to see you at Trapped!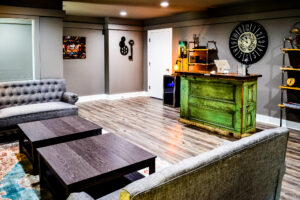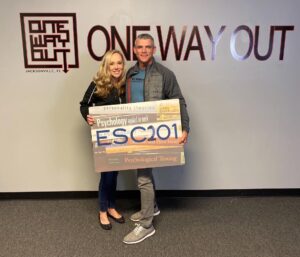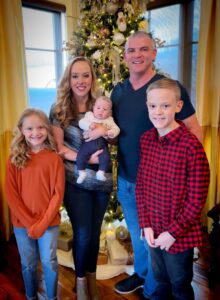 Mark
Favorite game to host:  Voodoo Shack
Favorite game played:  Wrecked, Masterpiece Escape Rooms,
Indian Trail, NC
Best at:  Physical puzzles
Terrible at:  Logic puzzles
Favorite location to play:  Atlanta, GA
Bonnie
Favorite game to host:  Saving Santa
Favorite game played:  Jack the Ripper, Odyssey Escape Games,
Alpharetta, GA
Best at:  Logic puzzles
Terrible at:  Searching
Favorite location to play:  Asheville, NC