Escape room games can be a great idea for a date night, whether it's the first date or the 500th. Since the COVID pandemic, many people have been searching desperately for something that is safe and fun, and escape rooms have answered the call.
There are many reasons why we love to do escape rooms together as a couple, but here are a few of our top reasons.
They are great ice-breakers
A first date can be intimidating to anyone, and you may worry about what you're going to talk about. Nothing can destroy a date like a night of staring at each other awkwardly with nothing to say. An escape room will give you an opportunity to work on something together to promote conversation (and maybe a little flirting!).
They are way more exciting than dinner and a movie
Escape rooms are a memorable experience that will stay at the front of your memories for years to come. If you want a date to remember, an escape room will serve that purpose. You'll even get to take a photo after your game to remember this special experience. After all, why would you want to watch a movie when you can feel like the star of one?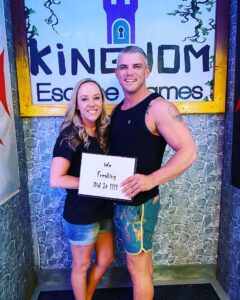 They promote teamwork and collaboration
An escape room date will give you the opportunity to work with your partner in a novel and fun way. To complete the game and escape the room, you'll need to communicate with one another, get help from one another, and use your brains. This will give you a chance to appreciate how you complement one another, as different puzzles require different type of knowledge and skills. And don't worry about feeling stupid, the puzzles require no outside knowledge, and your gamemaster will be there for you if you get stuck!
They allow you to escape reality
Relationships are difficult sometimes, especially with the hustle and bustle of everyday life. Playing an escape room on date night will allow you the opportunity to relax and "escape" together, as you are immersed in a whole other world. Take off the hat of parent, employee, caretaker, etc. and put on the disguise of a magician or detective. An escape game will be a genuine diversion from your worries and will allow you to connect as a couple.
Things to remember if you choose an escape room for your date night:
It is just a game! Don't take it too seriously and just enjoy the experience together. Winning the game isn't nearly as important as having a great time.
Communication is key. Remember to share all of your thoughts and ideas as you are playing so nothing is overlooked.
Remember that some games are easier when played with a larger group. Your room may be more challenging with only two players. If you have questions about what room is right for you, contact us!
Photos are not allowed inside the rooms but make sure you snap a pic after your game. Post on social media and cherish for years to come.
We would love to host you for date night at Trapped in the Upstate. If you'd like to know more about our rooms, give us a visit at www.trappedupstate.com. Happy dating!