When you hear the term "escape room", a variety of images and ideas may come to mind. Escape rooms have become more and more popular in the U.S., but the mystery they require to entertain the masses has also led to a host of misconceptions that may have deterred you from trying them out.
This post describes some of the most common myths we have encountered in our discussions of escape rooms, and the truth behind these engaging games.
I'm concerned about being locked in a room.
One of the main concerns shared with us regarding escape rooms is the anxiety of being locked in a room. The good news is, you will NOT actually be locked in! Escape room games are just that—games. Part of the fun is pretending you are locked in and attempting to "escape" but the fact of the matter is, the fire marshal will not let us actually lock anyone up (sorry for those of you who were hoping for the thrill of being trapped!).
You can leave your game at any time, whether it's to answer the call of Mother Nature, to take an emergency phone call, or just to get a breath of fresh air. When you're ready, you can return to the game and continue your quest!
I'm afraid I'll be claustrophobic.
If you can go to a doctor's appointment without being claustrophobic, you will be fine in an escape game. Our rooms are the size of a doctor's office (in fact, our building used to BE a doctor's office). While some games may require one team member to crawl through a small space, that will be communicated in the game description. We want everyone to have a safe and fun experience.
If you have concerns about anxiety or claustrophobia, please reach out for questions or communicate this to your game master. We can alert you to any potential issues and/or offer an alternative activity for your game. And remember, you are free to leave the room at any time, for any reason.
I don't want to look stupid if I can't complete the puzzles.
Escape rooms are in the business of creating fun, not making people look stupid! None of our puzzles require any prior knowledge. It's about thinking outside the box, using your deductive reasoning skills, and teamwork. All ages and levels of physicality can participate in our escape room games. The puzzles are designed to be tricky, so there is no reason to feel stupid even if you get tripped up.
In the event that you get stuck on a puzzle, your game master is more than happy to provide you with a hint or clue to get you moving again. We love to see people escape, and we're always here to help you as you play your adventure.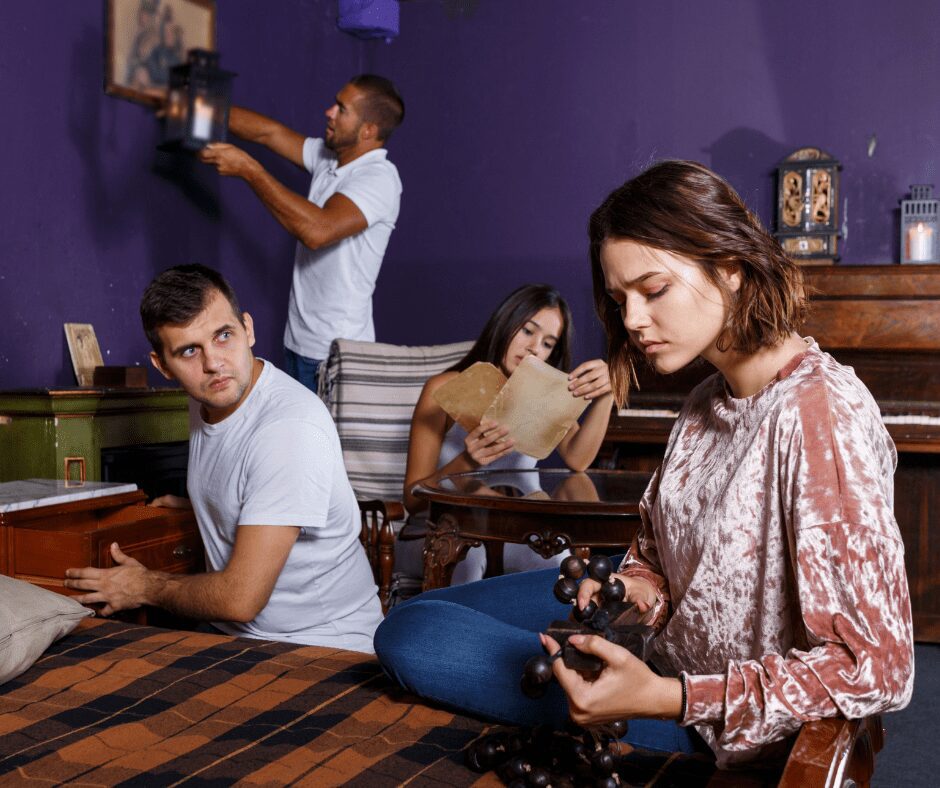 I'm not a fan of haunted houses or scary themes.
While some of our escape games are "spooky", we are not a haunted house, nor do we aim to be. Nothing will jump out at you, and no one will be in the room with you. We appreciate haunts for the entertainment they provide, but escape rooms are a unique experience. Any games with spooky elements will be described on the website and on the booking page.
I don't have a big enough group of people to play an escape room.
Escape room games can certainly be easier when you have multiple people with multiple viewpoints playing together. It's also a lot of fun to work together, get to know one another better, and celebrate as a team. Our rooms make for great team building adventures, but they do not require more than 2 people. We would love to host your date night or family fun night, even if you just have 2-4 players. It just makes the challenge even more satisfying!
I'm worried that my kids can't play with us.
We love kids at Trapped in the Upstate! Our kids play escape rooms with us often and they love them. While older kids (10+) may be more helpful in solving puzzles, kids of all ages can appreciate the immersion and excitement of opening locks and entering secret chambers! Any elements of our rooms that are more "mature" or spooky will be included in the room description, and if you have any concerns about whether or not your room selection is age appropriate, we would be happy to discuss them with you prior to your experience.
We are confident that anyone and everyone can play and enjoy an escape room, and we are open to any other questions you have. Simply give us a call or text at (864) 406-6246 and we can suggest a room that will fit the needs of your team. We are here for you every step of the way and we cannot wait to share our passion with you!
To learn more about escape rooms, click here!