Master Illusionist's Parlor
OVERVIEW
**THIS GAME IS LOCATED IN OUR GREER LOCATION**
This is a family friendly escape room that is perfect for all ages and skill levels.  The Mysterious Malini is one of the greatest illusionists of his time. Other magicians say that he is not always friendly, but he is excellent at what he does.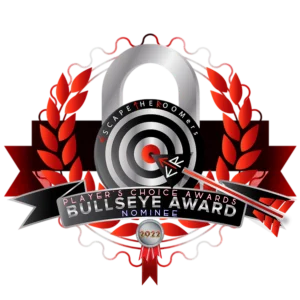 You and your group of aspiring magicians are attending The Mysterious Malini's latest performance but have stumbled into his private parlor, finding all the secrets to his amazing tricks. Not to be outdone, Malini has become angry with you!  He locked you backstage and you have only 60 minutes until the performance ends. You will need to outwit him by searching the parlor and figuring out all of his tricks and puzzles.
Use your teamwork and communication skills to look beyond what you see in front of you. But you must move quickly, because when Malini returns, he will make you vanish forever!
This room is great for beginners and is a family friendly escape room, but even enthusiasts will enjoy this unique room.  We also recommend this room for birthday parties. If you book a party package with this room, you can also watch your kids play from our party room! This is only included with our party packages, which you can find here. It is our largest room and holds up to 10 players, so it is also a great option for team-building.
This room is also wheelchair accessible. Please communicate any mobility issues to your game host upon arrival.